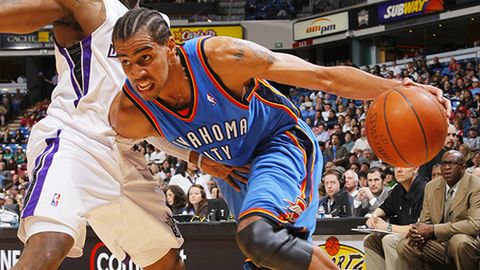 According to an
ESPN
report, the Thunder have inked their defensive stopper, Thabo Sefolosha, to a multiyear deal.
After being traded to Oklahoma City from Chicago at the Trade Deadline last season, Sefolosha swiftly emerged as the main defensive force of the Thunder. He averaged 8.5 points and 5.2 rebounds with Oklahoma City.
As of now, Sefolosha is still the Thunders starting Shooting Guard. If he can up his offensive output to compliment his defensive abilities, he should be able to keep a hold of the starting spot this season.
This Is Thunder Basketball
(Photo from ESPN.com)
Bookmark this on Delicious